Explore the work of
sntv's

sports video journalists - Part 2


We sat down with our sports video journalists, Neil Barker and James Caroll, who gave us an insight into the work they do here at sntv, including how we provide our sports video news service for clients, their sntv highlights and challenges that come with the job.
Please find the second part of our discussion below.
What is sports news and what makes a good news story?
James: I think you can broadly define sports news or news in general as information in the public interest and with that people around the world have a large interest in sports events, clubs, sports stars and teams. Mega-events like the Olympics and the FIFA World Cup are of great interest to audiences globally and are events which we extensively cover for our clients.
I really enjoy looking at sport as a prism, through which you can see society. Look back at what happened last year with the Black Lives Matter movement and the platform sport has given in the Premier League, the NFL and in all-American sports really.
Neil: I think news is still, as the name, suggests anything new. It's anything that we haven't seen before. And that for us often includes a quote that perhaps is controversial or outspoken, you need opinions, you need emotions.
We have seen a rise in viral videos over the last decade, previously these would have been confined to blooper reels or videos put out at the end of the season now it's become part of the online ecosystem. Going through highlights, often the interesting stories you find aren't the goals or the story of a match, it's something funny that's happened, like an animal running on the pitch, or someone's skied the penalty. That all counts as news, though I won't call it 'hard news'.
I'm interested in the politics and economic stories related to sport. I'm also a fan of athlete stories, that's why I find the Olympics interesting, athletes from a very young age know that they want to become a professional and many face real challenges to get to the pinnacle of their sport.
What would you say are your favourite sports to cover and why?
"that's quite a special feeling actually, to feel part of such a huge event"
James: A favourite sport to cover is different from your favourite sport. Football is up there for me just because it's such a popular sport and when you're covering events like the Champions League, FIFA World Cup or UEFA EUROs, you do feel like the eyes of the world are watching and you are in a very privileged position to be there, it's quite a special feeling actually, to be part of such a huge event.
I do find we have more access to other sports, such as athletics and cycling. I enjoy covering those because you get to meet the athletes and really get into the stories, you get to shape and mould your own story, rather than it just being a generic press conference. I really have a lot of admiration for those athletes and cyclists as well. I think those two sports are incredibly physically demanding, and to get to the top level it takes a tremendous amount of dedication.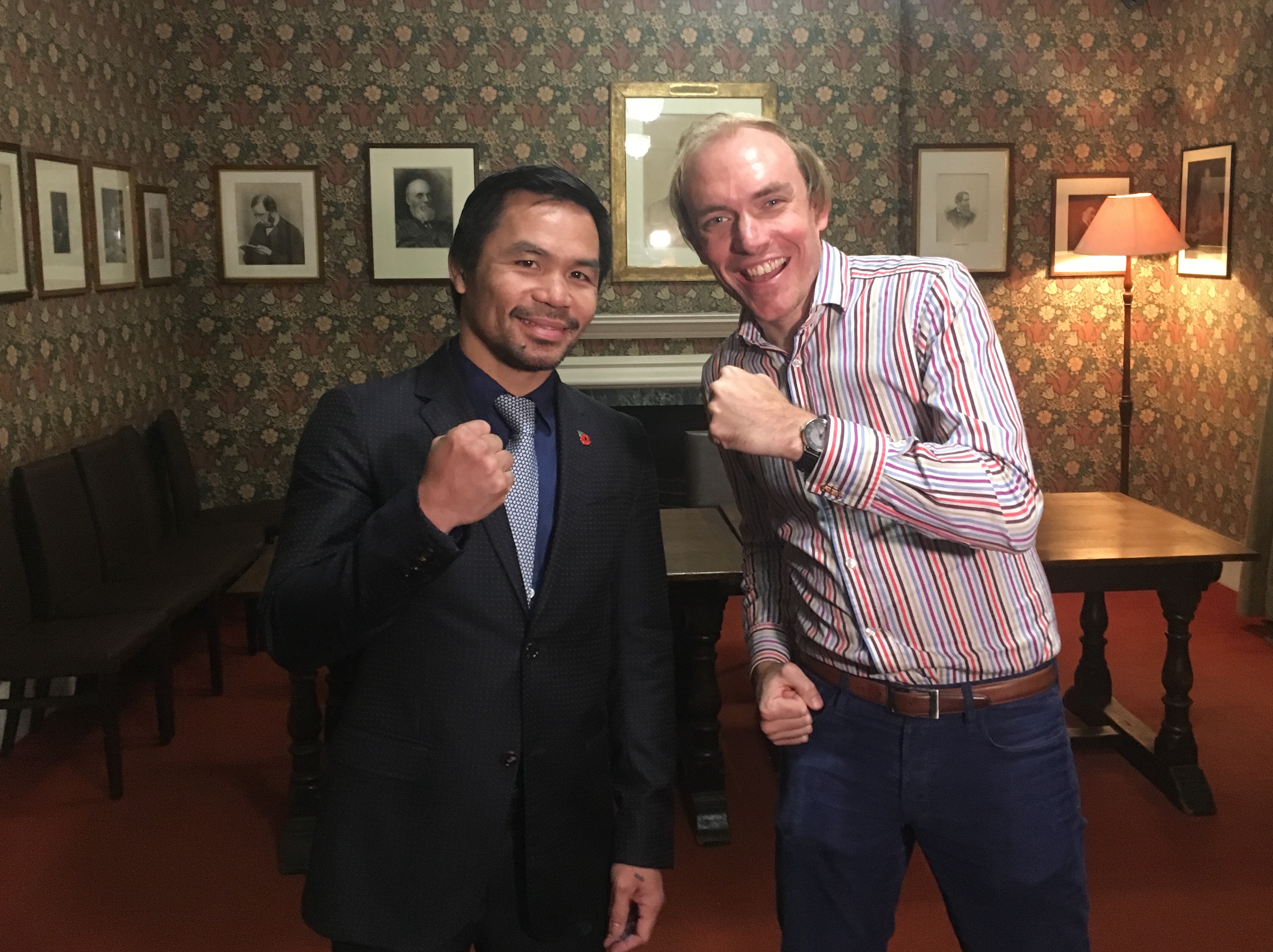 Neil: My favourite sports are football and boxing, but it's a different question when you're asking about my favourite to cover, because the reality is when you're on the ground, up close covering these sports and meeting the athletes, sometimes there are vast differences in what you can and can't do and how you're able to cover them. Despite really loving football since I was a kid, it's actually one of the hardest sports to cover because access is becoming increasingly difficult. It's hard to get your own stories, set your own interviews up. We've seen an acceleration of that due to COVID-19 measures with lots of access going online, which limits your contact with managers, players and administrators.
Boxing I think is still really open with a need for coverage to fully get it into the mainstream. Organisers are always much more amenable to putting up boxers for an interview, giving you access, letting you go to the gym and film boxing training. I personally feel that they often have better stories, it's still a sport of struggle for a lot of the athletes. However, it's been quite a precarious sport due to COVID-19 restrictions taking away a lot of fighting opportunities for a lot of boxers.
What preparations must you take before a shoot?
James: There are always two sides to it. There's the logistical side making sure the kit is in good working order and ensuring you have the skills, and you know where you're going. People maybe don't really realise you don't have a parking space guaranteed right outside of the stadium, you need to plan and have those contacts, so you know where you're going and how you're going to get there, giving yourself enough time.
Then there's the side of, "What am I hoping to get out of this? What's important, not just to the domestic market, but to that global audience?" Being aware of that and making sure you do your research on stories that could be of interest to a wider audience is important and where sntv's strengths lie, covering stories for that truly global audience.
Neil: Often you've got one shot at most of the filming opportunities we do, if a manager says something really newsworthy in a press conference and you haven't recorded it, that quote isn't coming back. You have to first make sure all your kit is working to a high standard and you are prepared to record, but that's the bare minimum.
Beyond that, I think research is the biggest thing, especially with us as we are working for a global news agency and covering stories with a global interest. This means we can be covering five different sports across five different days, meaning you must have a real overview of what's going on in the world of sport. You need to be aware of what the big stories are, who the key protagonists are and be prepared. Always have some questions in mind about what you might ask if you did get someone put in front of you for five minutes, as sometimes it really is just five minutes.
Who has been the most interesting person to interview?
James: For me, Eliud Kipchoge was the most interesting person. He's just such a positive guy and a world-class athlete. It's difficult not to come away from speaking to him without feeling positive and like you've had a good experience.
Another one that always sticks out for me is Zico at the 2014 World Cup, he was captain of Brazil at the 1982 World Cup, I just got talking to him about life, football, Brazil, how football relates to life, everything, it was pretty cool. We probably spoke for about half an hour and PR were saying times up after 10 minutes, but he wanted to keep chatting, it was just a really nice conversation.
"that's also gratifying when you enjoy something and the clients take it up as well"
Neil: Recently one of my more interesting ones was chatting to Bob Arum, who is one of the most famous and one of my top boxing promoters. He promoted Muhammad Ali and is still going strong at the age of 89. He runs Top Rank, which is one of the leading boxing promotion companies. I'd never interviewed him before but got some time with him just as he was becoming the first big-time promoter to bring boxing back after the initial lockdown. He wasn't afraid to share his opinions at all. We had a 40-minute interview, it could have gone on. It gave us a load of great news lines that were picked up far and wide. It's always gratifying when you enjoy something and the clients take it up as well.
What has been the highlight of your SNTV career so far?
James: I think the highlight for me has got to be the 2014 FIFA World Cup in Brazil. Football and Brazil are kind of synonymous and to have the opportunity to go to Rio de Janeiro, where England were based, was just something I never really thought I would get the opportunity to do or to cover. I think it is impossible not to feel really privileged when you're there, because not only are you working at this huge event with the world watching, but also the opportunity to travel to new places and see parts of the world that maybe you wouldn't have had the opportunity to do, you can't take that for granted. It's pretty special and I'm very lucky.
Neil: I was lucky enough to go to both the Winter Olympics and the FIFA World Cup in Russia. I think the Olympics is my favourite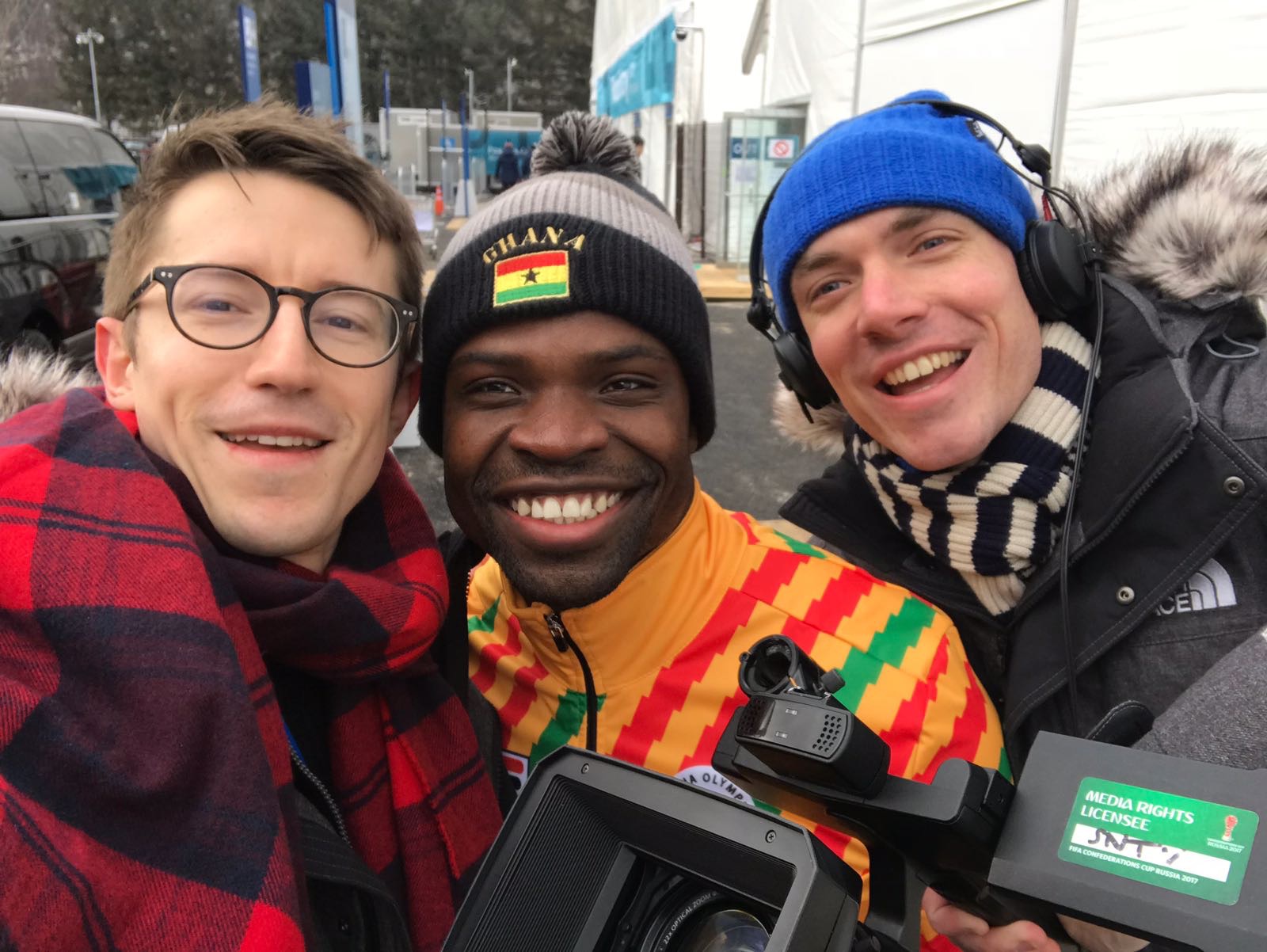 because we're coming back to that world access. A lot of the athletes at the Olympics have come from relative obscurity. They're the kind of people we want to interview from a variety of countries, they're open to meeting you, chatting to you, doing interviews, giving you their story. Luckily at the Pyeongchang games, I was given the opportunity to move slightly away from the daily coverage of IOC press conferences, and to go out, meet athletes outside the athletes village, and cover some slightly more under the radar stories, which is always very, very gratifying.
What is the most challenging aspect of your job?
James: I would say working alone is probably the most challenging aspect of the role. There's a lot to think about in the field and I rarely have the luxury of working with others. Working alone presents its challenges, with clients relying on you to get the content, film, edit and turn it around quickly. I think sometimes it would be nice to have a second pair of eyes or a second pair of hands just to bounce off. But at the same time, I think it's actually one of the things I really enjoy about the job, because you get a real sense of achievement at the end of the day when you've filed your edit and it gets used by clients across the world and you think, well, that was all me and I delivered on that.
"it's mastering your kit and your shooting technique"
Neil: I think the biggest challenge as a video journalist is making sure you come away from an event with something usable for clients. It's mastering your kit and your shooting technique. We are relied upon to do three or four jobs at once. So, we are shooting something, lighting something, doing the sound, asking the questions, then doing an edit. Previously, maybe just a decade or two ago, you'd have three or four assigned to those different roles. Initially, when you start as a video journalist you have to think on your feet, especially when you're doing an interview with someone and it needs to look good, sound good and the right questions need to be asked, it can be quite overwhelming. However, I've been doing this job now for over a decade and all those concerns have faded away a bit because they just become second nature, it's just normal now for me to do all that at once, but we shouldn't lose sight of the fact that it can be a challenge.
If you haven't done so already, please read part one of our interview here.
And finally, we would like to say a special thanks to both James and Neil for taking the time to talk to us and for sharing their experiences.
---
Please contact us to find out more about how we can help you with your sports coverage plans. You can also keep up to date by following our LinkedIn profile.