sntv

Insights – FIFA Women's World Cup 2023

This year's FIFA Women's World Cup in Australia and New Zealand will be remembered for both the action on and off the pitch. The tournament had record-breaking attendance and viewing figures, eight new teams taking part and a new world champion, and sntv's crews were on the ground to capture it all.
This Women's World Cup has proved to be the most successful yet with records broken during the Group Stage alone. There was a 29% increase in attendance from France 2019 (first 48 matches of 2019 compared with first 48 matches of 2023). Additionally, FIFA surpassed digital traffic for the entirety of the 2019 tournament in just 14 days, reaching 22 million unique users [3].
This week marks one month since Spain were crowned 2023 Champions and despite the controversy surrounding the trophy ceremony, our following insights focus on the media interest before and during the event, plus the key takeaways for women's sport.
Here's a summary of how our coverage of the Women's World Cup performed around the world:
Across the event news content distributed by sntv was used by 406 media outlets in 88 markets across the world. As a point of comparison, the total number of media outlets was 43% higher than the total number engaged during UEFA Women's EURO 2022.
sntv's news content was used the most by media outlets in France and significant media exposure was also recorded in South Africa, Qatar, the United States and the United Kingdom. Outside of these top markets, coverage was also notable in markets with teams competing in the event, including Germany, Spain, Australia, Vietnam, and Nigeria.
47% of the media outlets who used our content operate in Europe.
Across the duration of the tournament, we published 1,172 stories with press conferences and training footage being the most popular. News stories previewing the tournament were also popular and used by 214 media outlets in 73 markets.
Some of the most used sntv stories:
World Cup winners Spain greeted by acting PM Sanchez
Women's World Cup winners Spain return to Madrid following the 2023 tournament in Australia and New Zealand
Women's World Cup winners Spain hold celebration party in Madrid following the 2023 tournament in Australia and New Zealand
Auckland and Sydney ready to for opening Women's World Cup games
England hold final training session ahead of WWC semifinal clash against Australia
Usage map of sntv news stories: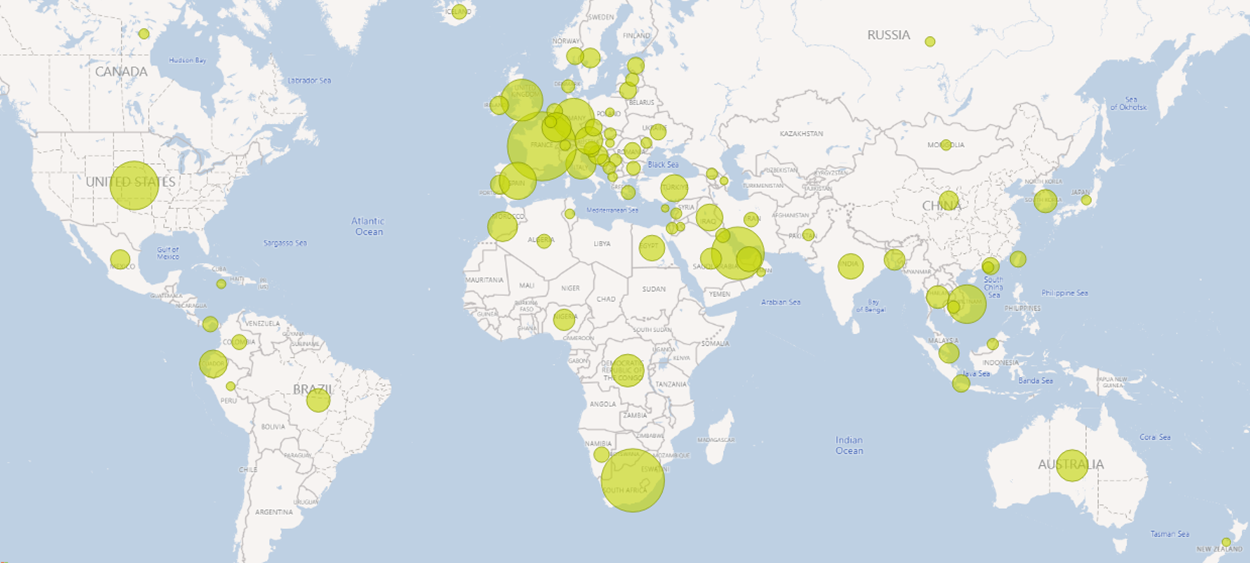 The Future of Women's Sport
Despite the promising outlook, there is still work to be done to grow female interest in women's sport internationally. For example, YouGov Global Fan Profiles data outlines that men are significantly more likely than women to have followed the event closely [4]. Participation is key to narrowing this gap and significant change will be dependent on investment in women's sports pathways, in the United Kingdom the industry is projected to be worth over £1 billion annually by 2030, underscoring the substantial opportunities it offers.

Positive change has already been introduced by some of the more experienced teams in the competition. In Australia the government has committed AUS$200 million to enhance women's sports facilities and equipment following the Matildas' historic Women's World Cup performance, igniting unprecedented support for women's football. This investment aims to create opportunities in grassroots football, ensure pathways for players, and improve facilities [1]. This positivity is mirrored in the UK where, in collaboration with Deloitte's Sports Business Group and backed by the International Working Group (IWG) on Women and Sport, a year-long initiative starting in autumn 2023 will bring together UK-based women's sports rightsholders seeking investment, industry experts, and sports investors. The program includes sessions for market insights, networking events, and comprehensive mentoring for rightsholders [2].

Additionally, in the context of the 2023 Women's World Cup, it has earned the reputation of being "the year of the underdog" due to the unexpected inclusion of eight newcomers: Portugal, the Philippines, Vietnam, Panama, Republic of Ireland, Haiti, Zambia, and Morocco [5]. Their remarkable achievements not only mark significant milestones in women's sport but also shine a spotlight on critical issues such as the insufficient funding and investment these teams have historically received.
The surging popularity of these teams has generated increased interest and subsequent financial backing for their future endeavours. Morocco, in particular, made history by becoming the first team from MENA to reach the finals. This outstanding accomplishment has ignited a fervour to enhance female participation in the sport, resulting in an impressive tenfold surge in the annual budget for women's football, now amounting to $65 million [6].

The importance of this financial commitment to women's football and grassroots sports cannot be overstated. Vietnam's success is a testament to their sustained efforts in nurturing women's football, marked by a series of reforms initiated in the late 2010s to elevate the sport at various levels [7]. Vietnam's participation serves as a breakthrough for women's sport within the country, showcasing the strides made in promoting gender equality and expanding opportunities.

As a global sports news video partner, sntv is committed to covering sports across the globe. If you want to hear more about how we can help with your coverage plans, please contact us.
---
Keep up to date with all our latest insights by following our LinkedIn profile.
Sources: