Launch of new website to celebrate sntv's 20th anniversary
We have launched our brand new sntv website to coincide with the 20th anniversary of sntv.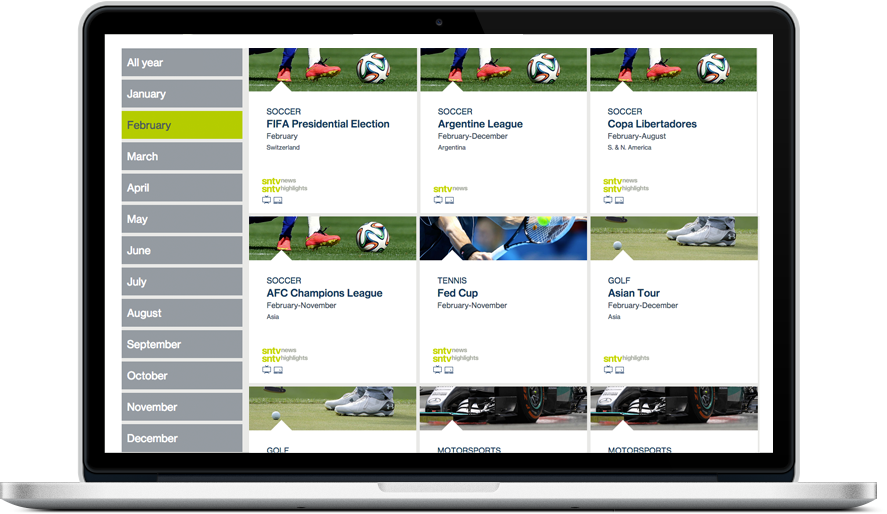 We have launched our brand new sntv website to coincide with the 20th anniversary of sntv.

Our 450+ broadcast clients and thousands of publishers globally are testament of our long-standing experience in creating the best sports video news there is. In order to enhance our clients' experience in using our content, we are offering the following features exclusively to our valued clients.
Curated sports planning calendar: clients can plan their sports coverage ahead alongside the insight of whether sntv will feature highlights, news and have crews on site.

Comprehensive scripting information: all our content's scripts are featured on the website, in both English and - Arabic, with easy access to our 24 hour Sports News Desk just a click away

Information on rights and restrictions for your territory: clients can view and download the restrictions for their territory making it easy to share with their team

Previews of our most recent videos via our watch page: offering clients unlimited previews of our most current video news

Tailored regular planning emails delivered straight to your inbox: optional opt in to receive daily, weekly and monthly coverage planning straight to client's inboxes
If you are a client and haven't yet set up an account, please register here.
If you would like to enquire about signing up for a trial of the sntv service, please register your interest here.
For more information about our website and our products please send us a message
About sntv
For content creators who want to connect with sports fans worldwide, SNTV is the dedicated sports news video partner that empowers a consistent output of rich and relevant stories. Thanks to our partnership of The Associated Press and IMG, we have unrivalled access to cover global and local sports events. We get our audience right inside every story, giving our clients news with an edge. And that's unbeatable sports content on more than 27,000 stories a year that 400+ broadcasters and 800+ digital publishers rely on every day of the year.
Media Contact: Evelyn Kogler, Marketing Director
Phone: +44 (0) 20 8233 5449
Email: ekogler@sntv.com