Inside the Winter Olympics
Laughs, tears and a big helping of Olympic spirit, Pyeongchang Games, February 2018
When we were not at Germany House sampling some phenomenal pastry and covering the endless Gemanic gold run, my video journalist colleague and I were on the hunt for unusual features and interviews to complement our excellent action and reaction offering. We wanted to find the heart and spirit of these Games beyond the enormous venues and glittering medal podium.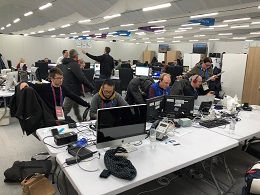 Early wins were gained outside the athletes village. We spoke to Ghanaian skeleton slider Akwasi Frimpong, a former vacuum cleaner salesman. On camera we showed him the viral sensation in the Media Press Centre – a robot hoover giving a hint of future cleaning innovation. Akwasi was not impressed and said he was still the right man for the job. We also coaxed out 'Topless Tongan' Pita Taufatofua from the atheltes village into the snowy outdoor wilderness for a chat. He didn't show off his exemplary chest, but did reveal he fancied taking to the water at the Tokyo Olympics.

With each interview acquired we hunted for fresh and spectacular back drops. This involved ferrying athletes from the rather bland surroundings Athletes village to a picturesque nearby ski slopes. It was pretty entertaining to have some interesting characters in our front seat. First up was Kosovo's first ever Winter Olympian Albin Tahir. Albin had a dazzling 'Hollywood smile' and rightly so – he's a part-time dentist and told us about the challenges of juggling his two favourite loves – inspecting molars and bolting down a mountain at 100MPH. We also had a six-time luge Olympian in the SNTV-mobile – Shiva Keshavan of India. He wore a sensational Indian embroidered hat for the interview, but that couldn't hide his emotional dismay at the lack of funding from the Indian Olympic Committee.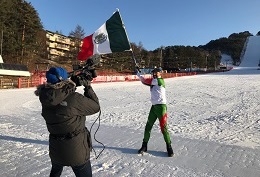 Finally we motored around the highway with Pyeongchang's 'Eddie the Eagle' - Mexican cross-country skier German Madrazo. He came 116th and last in his race, but first in the hearts of all the spectators as he produced wild celebrations of pure joy at the finish line. In a home-straight finish that went viral, he wafted his Mexican flag in the air in front of the watching world…and 18 hours later the flag was in our boot. German, still pulsing with energy, was happy to recreate the triumphant flag wave for our story. If there are any B-Roll Awards, we have a fine nomination!

Our 'Park and Ride' shoots offered some fun stories – and a nice balance with our more serious and in-depth content. That included one-on-ones with freestyle athletes and medal winners Nick Goepper and Mark McMcorris who spoke to us openly about their hard fought battles to defeat depression. We also toured an abandoned ski resort to provide an eye-catching – and somewhat creepy – backdrop for clients to talk about the long-term legacy of the Pyeongchang Games as fears of 'white elephant' venues grew.

Aptly we finished up with a long-form feature story which had a bit of everything – laughs, tears and a big helping of Olympic spirit. We wanted to get an idea of how successful the Games had been – so who better to ask than an 'Olympics Superfan'? We spent the whole day with Ron Isbell who has now been to 12 Olympic Games. Ron from Texas is a man so devoted to his Olympic stays that he tours the accommodation and venues a year in advance – and goes to two-three events a day every day. He also showed off an enormous Olympic pin collection, a source of countless friendships and fantastic anecdotes made down the decades. We captured Ron swapping pins with fans from all over the world, walked down the local beach to see an Olympics art exhibition and even got Ron inside Russia House to tick off another box on his bucket list. A real highlight was Ron breaking down in tears when we asked him to describe his love for the Olympic Spirit. Ron has fallen head-over-heels in love with the Olympics – and after all the passion, sacrifice and camaraderie on show from the 'alternative' athletes we had met along the way, it wasn't hard to see why.