It's a (Wo)men's game
Media coverage – or lack of – for women's sport is a hot topic.
Consumers today can watch and read more about female sporting events than ever before and women's participation in sports has grown considerably. However, despite progress in awareness and exposure of women in sport in the last ten years, there are significant obstacles that need to be overcome in the short and long-term to achieve parity across men's and women's sports coverage.
Viewing figures for the FIFA Women's World Cup are on the rise
The men's FIFA World Cup is one of the world's biggest sporting events with the 2018 men's tournament being viewed by more than 3.5 billion people. According to FIFA, 1.12 billion people watched at least one minute of France beating Croatia 4-2 in the FIFA World Cup final. While viewing figures for the FIFA Women's World Cup are on the rise, and audience numbers tripled from 2011-2015 they still pale in comparison; even with footage hours increasing from 5,900 hours to almost 7,800 hours of coverage.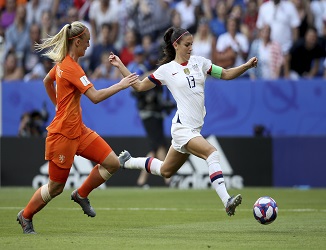 However, FIFA[1] discusses how the FIFA Women's World Cup 2019 "attracted an average audience of 3.248 million viewers" and claims "it became the most-watched FIFA Women's World Cup Final on record in the UK, also exceeding any audience from the previous four editions of the FIFA Women's World Cup or the 2017 UEFA Women's Euro".
Another interesting finding from a BBC[2] article states that "UK viewers have similarly set new records for women's football, while Fox Sports have reportedly seen an 11% rise in their audience compared to four years ago", highlighting that the FIFA Women's World Cup is a huge moment for women's sport. SportsPro[3] found that "In Brazil, their round-of-16 match against France was viewed by more than 35 million people on free-to-air network Globo TV, the largest domestic audience for a women's soccer game anywhere in history." Could this year's World Cup level out the playing field?
In sports where male and female events are held concurrently, such as in tennis and the Olympics, there is far less difference between viewing figures and overall sports coverage. The separation of genders seen in soccer, rugby, and cricket, to name a few, seems to be a possible barrier to coverage equality. "Interest levels were higher in sports where men's and women's events are staged together - for example, athletics or tennis - as opposed to being staged separately, like in golf, cricket or football" says a BBC Sport article[4].
But why does this barrier exist?
"36% of under 25s think girls get less encouragement to play sport"
Perhaps this idea of separating male and female events harks back to school education where girls and boys stop playing sport together at a very young age or perhaps unequal levels of encouragement, creating the notion of gender separation in sport? Insure4Sport conducted a national survey[5] with equal opportunities in school being one of the topics. They found that "36% of under 25s think girls get less encouragement to play sport – implying that gender inequality within physical education is an ongoing issue", emphasizing the debate whether women are given the same opportunities as men to become sportspeople from an early age.
Gender equality in sport typically means that all sports are played the same way for men and women – although not exclusively, of course – and this can negatively impact the thrill and excitement of female games for viewers.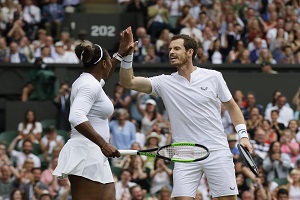 Insure4Sport illustrates how there is clear gender inequality within the sports industry with, on average, male footballers receiving £22 million in prize money and £561,230 for women.
On the other hand, several other popular sports, such as tennis, volleyball, athletics, and swimming show a positive pattern in promoting equality with no prize gap. The fact that these sports have managed to close this gap is a fantastic success story however sports such as soccer and cricket highlight the notion that there is still a long way to go.
Insure4Sport build on these findings when investigating viewing habits and found that "44% of respondents stated they watch football, yet when we specified women's football this fell to just 17%. Rugby also has a strong male bias – 23% of respondents watch rugby, but just 6% watch women's rugby." Although rugby viewing habits seem to have a strong male bias, Vice[6] claims that "Recent New Zealand rugby numbers show female rugby player numbers increased 14.6 percent over the last year".
"NZ female rugby player numbers increased 14.6 percent over the last year"
On the other hand, tennis, volleyball, athletics, and swimming, which show no prize gap and a positive pattern in promoting equality, are the most-watched women's sports and "Of the world's most popular sports, swimming and athletics showed the least disparity between how many people watch the sports as a whole versus how many watch the female versions of the sports."
Let's make this change happen
For this to change, everyday sports fans need to be exposed to 'female sports' in order to change their mindset. Lahnee, Pavlovich[7] emphasises the need for action, "In America 40% of sportspeople are women, however only 6-8% of the total sports media coverage is devoted to them. And women-only sports stories add up to just 3.5% of all sports stories in the four major US newspapers." If the awareness and exposure of these events is not there, then demand will not increase and change most definitely will not happen.
Join us for unrivalled coverage.
As a global sports news video partner, SNTV is committed to covering women's sports across the globe. If you want to hear more about how we're pushing for change, please contact us to find out more.
[1] FIFA. "France 2019 Final sets viewing records in participating and neutral territories" (2019)
[2] BBC. "Women's World Cup: In search of a major tournament in Paris" (2019)
[3] SportsPro. "Women's World Cup 2019: The full review" (2019)
[4] BBC. "Women's sport: New research finds more than 80% of sports fans are interested" (2019)
[5] "The UK's Attitudes Towards Women in Sport" (2018)
[6] Vice. "Still a Long Way To Go Before There's Gender Equality in New Zealand Sport" (2018)
[7] Lahnee, Pavlovich. "The Gender Equality Debate; A Boost for Women in Sport." (2018)